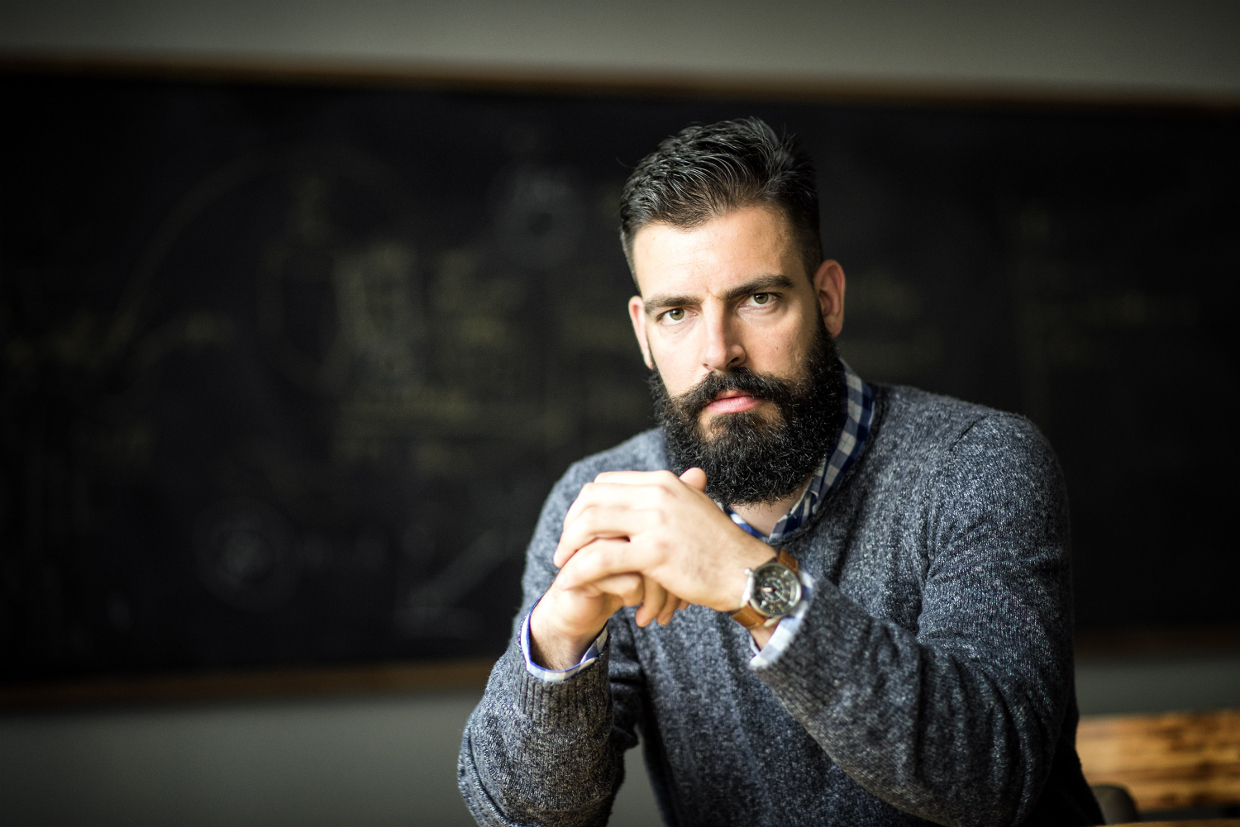 A short biography
Donato Giovannelli is an Entrepreneur and a Microbial Ecologist working on the microbiology of extreme environments. He is Professor of Microbiology at the University of Naples Federico II were he works on the coevolution of Life and Planet. He is also Affiliated Scientist at the Earth-Life Science Institute, Tokyo, a Visiting Associate Research Professor at Rutgers University, USA and an adjunct scientist at the Institute for Marine Biological and Biotechnological Resources of the National Research Council of Italy (CNR-IRBIM) in Ancona, Italy, and a guest investigator at the Woods Hole Oceanographic Institution (WHOI), USA. I am also part of a new no-profit institute dedicated to exploring the origins and nature of consciousness, YHouse, located in Manhattan, New York, USA.
A bit longer biography
I received my B.Sc. in Marine Biology (2005) and M.Sc. in Marine Ecology (2007) from the Polytechnic University of Marche, Italy. From 2007 to 2010 I worked as a graduate assistant at the Polytechnic University of Marche and the Institute of Marine Science of the National Research Council of Italy. I obtained my Ph.D. in Applied Biology, Microbiology and Ecology in 2013 from the University of Naples Federico II. After the PhD, I've spent time as a Postdoctoral Fellow in the laboratory of Costa Vetriani at Rutgers University, as a Visiting Scholar in the Program in Interdisciplinary Studies at the Institute for Advanced Study in Princeton, USA, and as a EON Research Fellow at ELSI, Japan. I learned my trade working with Elena Manini at the CNR-ISMAR and Costa Vetriani at Rutgers University and interacting and collaborating with Paul Falkowski (Rutgers University), Robert Hazen (Carnegie Science) and Eric Smith (ELSI). In December 2018 I joined the Department of Biology of the University of Naples Federico II as an Assistant Professor (RTDb) and was promoted directly to Full Professor in 2021.
I am fundamentally interested in the co-evolution of the biosphere and the geosphere and how life influences planetary-scale processes. My current research focuses on two major themes, integrally linked to each other: 1) the microbial diversity and ecosystem functioning of extreme environments and their role in global biogeochemistry; and 2) reconstructing the emergence and evolution of metabolism. This diverse interests stems from three basic assumptions underlying my research: i) prokaryotes dominated the evolutionary history of our planet; ii) they are responsible for the bio in biogeochemistry both at the ecosystem level and through time; and iii) extremophilic prokaryotes living in extreme environments resembling early Earth analogs, despite being extant organisms, retain a higher number of ancestral metabolic traits. In my work, I combine classic microbiology techniques with data from comparative genomic, phylogenetic, and environmental surveys and computational approaches to reconstruct geo-bio interactions. In 2020 I was awarded a ERC Starting Grant to study the co-evolution of life and planet. The project, called CoEvolve, is looking at the co-evolution of biogeochemically-relevant proteins and trace metal availability in the environment. You can read more about the CoeVOLVE project here. Additional projects include the subsurface of Antarctica, the relationship between convergent margins and subsurface microbiology and shallow-water hydrothermal vents among many others. You can read more about my research and projects here. You can also read more about my activities looking at the yearly report I post in the Year in Numbers section
I am a convinced supporter of Open Science, and I am currently involved in the OPERAS (OPEn Research And Science Group) of the National Research Council of Italy, an interdepartmental group dedicated to promote Open Science practices within the research community. I try to be as transparent as possible with my research, and I am (slowly) uploading all my code, my protocols and my data to GitHub, FigShare or other appropriate open access databases. All my future publications will also be available as preprints.
Below you can read in more details about my entrepreneurial experience. I am the co-founder of a few companies and I am regularly invited to speak about topics related to entrepreneurship, startups and the relationship between technology, sustainability, innovation and business.
In my free time I like to sail, play rugby, drink wine and spend time outdoors.
Entrepreneurial experience
I strongly feel that thus far the academic system has not done a great job in presenting students the opportunities of self-employment and entrepreneurship, largely failing to prepare them to create businesses rather than seeking a job as employees. On this belief, several years ago I started working to forge an alternative path for my career, beyond the employee/academic dichotomy currently presented to our students. Currently, I am a full-time academic, but I co-founded and own some startups and companies that are fast growing.
In 2009 with my brother Andrea Giovannelli, Patricia Barcala Dominguez and two additional friends we started dreaming about a company to work with advanced nanotechnological materials. The next year we submitted a business plan to the eCapital business plan competition, winning in early 2011 the first prize. In July 2011 we founded the startup Nano-Tech, working on nanostructured epoxy resins. Today, Nano-Tech Spa, is a fast growing specialty chemical company producing nanostructured advanced composite materials with applications in the automotive, aerospace, marine and sport-goods sectors. The company has several patents and disruptive technologies like the 3Dynamics®  nanoparticle dispersion technology and the C-preg® high-temperature prepregs. As co-founder and shareholder, I served in the company for several years in different roles, including R&D Advisor and Member of the Board of Directors. www.nanotechspa.com
In 2016, with the backing of some of Nano-Tech investors and with a team of awesome people I founded a new biotech start-up, Cypress Biotechnology, working to develop innovative biotechnological solutions in the field of antimicrobial materials and novel bioactive compounds through innovative pipelines and cross-disciplinary approaches. The company is still in shadow mode, but I am sure it will take off. www.cypressbiotechnology.com
Following my experience with two startups and after a number of years in the ever-growing ecosystem of Italian startups, incubators and accelerators and having successfully raised funding for Nano-Tech through multiple rounds I decided to put some of my experience to good use supporting early stage startups in the growth of their business. In 2018 I assembled a team of professionals with experience in different aspects of early stage business and created The Foundry. The Foundry is an early stage start-up investment group that provides advising, counseling and support services through work-for-equity type of approach. The group has several active start-up projects. www.thefoundry.it
Following my passion for the land and for the product it can give, and fascinated by the production of wine in 2018 I started collaborating with one of the most famous winemakers of the Marche region, Alberto Serenelli. Alberto is a three generation winemaker located in the Conero area, near Ancona, Italy. For the past 30 years, the red and white wines produced by the vineyard have excelled among the products of the region, collecting countless awards from Italian and international sommelier and wine associations. The small scale production (~20,000 bottles/year) is characterized by a constant search for perfection and emotions, with a small range of premium wines produced only in selected vintages. www.albertoserenelli.com